Quality Dating and Matchmaking Services
for Men from UK who are Seeking a Russian or Ukrainian Wife
Everybody has its own preferences when it comes to choosing a life partner but Russian and Ukrainian women sure don't leave too many men indifferent. They are generally slim and quite attractive, have a good education, an active lifestyle and dress quite elegantly on a daily basis. That by itself can explain why so many men from all over the world travel to Russia and Ukraine looking for a future life partner. Another important aspect behind this "Russian women dating" phenomenon is the fact that many of these single women are looking for a man who is family oriented and that is exactly what a lot of men who travel there are looking for as well.
Online dating may not work for everyone but it sure creates lots of couples. Nowadays, there are probably not too many people who don't know someone who is involved in a good relationship with someone he or she met online. Sure, it may not be as romantic or as a nice story to tell future children than having met on a dance floor or in the park or even at the supermarket but it does the job and brings single people together. In the end, what matters the most is not so much "how we met" but how happy we are to be together.
When someone is using online dating services to find a life partner locally, it is pretty straight forward and the face to face meeting can happen quite rapidly and at little cost. When using international dating services, it is quite a different story. The relationship is usually bound to remain virtual for longer due to the time and expenses involved in traveling to meet in person. And there is always the doubt that the person at the other end may not be the person you see on pictures and write to. Indeed, where ever is an opportunity to make money by scamming people, there are scammers. And the Russian women and Ukrainian women dating sure has its share of scammers, unfortunately.
We Have Partnered with Experienced, Honest and Reliable Marriage Agencies
We provide our Clients Enjoy a True Opportunity
to Meet Single Sincere Women from Russia and Ukraine
To provide the best experience to our clients, we begin by making sure that we work only with marriage agencies that work in an honest way. This is one of the most important aspects of our business. Our clients pay to use our services and they expect and deserve to spend their time and money wisely and in an effective way. Our agencies' owners and staff meet every woman in person before creating her profile. They interview her to make sure she is sincere in her search of a life partner from abroad and they check her identity with passport and send us a copy of it.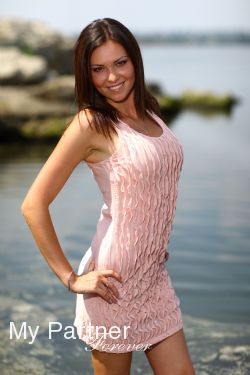 Thus, we can guarantee that each woman is real and that her photos match her passport photo. In some cases, her passport even attests her matrimonial status since they need to have it stamped when they get married and another stamp when they divorce. The women read their letters and answer them in a similar way as they would in any dating site with the difference that it is her marriage agency that receives and send the letters for them. One may wonder why there is such a system and there are explanations. First, a good percentage of Russian and Ukrainian women don't know enough English and the need help with translation and although online translation is getting better and better it is still not that great. Second, not all single women in this world are willing to display their profile on regular dating sites because there are lots of crazy people out there and although it may not scare a man, it can scare a woman. Third, although most people have smart phones in these countries, they do not all have easy and cheap access to internet as we take for granted in the West.
We can help any man who is serious and sincere at finding a life partner in Belarus, Latvia, Moldova, Russia or Ukraine. Make a good selection of profiles that match your search criteria and vice versa (you also match the lady's search criteria). Introduce yourself to one or a few women and keep developing with those you feel can be a match. Meet on Skype; this will allow speaking and looking at each other at the same time. When you both feel the next step is to meet face to face, plan to meet her in a near future. If you have questions, please don't hesitate to contact us by phone or email.