Online Dating Site to Meet Charming Russian Ladies
Quality Matchmaking Service to Find a Wife in Russia or Ukraine
My Partner Forever is an online dating site that offers quality matchmaking services to help men from UK and of all regions of the world to get into contact with single women from Eastern Europe countries including Belarus, Moldova, Russia and Ukraine. The single Russian Women and Ukrainian women on our site are looking for a life partner outside their own country because they simply cannot find a local man who wishes to engage in a serious relationship. A typical Russian or Ukrainian woman is proud and would be more than happy to find her soul mate locally. Because of demographic reasons like a lack of available men and social factors like many single men generally not reputed to be faithful and having bad drinking habits, many Russian women and Ukrainian women remain single while the years go by and decide to broaden their search of a life partner to countries of the West and other regions of the world.
It is not a secret that "Russian women dating" industry is infiltrated by all kind of scammers. Unfortunately, there will always be people who choose to do business in a dishonest way, regardless of the consequences to other people. It is also not a secret that there are tens of thousands of single women in Russia and former USSR countries who simply wish to find a good man to spend their life with but cannot reach their goal. In the meantime, it is also a fact that more and more men living in countries of the West find it very difficult to find a life partner who wishes to engage in relationship based on the traditional family values. Just as men do, women are focusing on their career often leaving no time or not enough time for the family. It is not a question of who's right or who's wrong but simply a fact. This, in big part, explains why so many men seek their life partner in Eastern countries like Belarus, Russia and Ukraine.
Russian women have the distinction of being generally well educated and very good housewives. Of course, women from these countries with good education and especially the new generation, seek to develop their career and reach financial autonomy. Even more so if they are single and have only themselves to relay on to pay the bills. And unfortunately, many are single and not necessarily by choice. However, they generally distinct themselves by the fact that once they met their man, they don't absolutely need to keep this career and financial autonomy. They will gladly make room for the family needs, especially if the couple has young children.
About Online Dating and Developing Relationships with Russian Women
How Should a Man Behave, What to Do and Not to Do
In many ways, developing a relationship with a Russian woman who you met online is very similar to dating and developing a relationship with any woman from any region. There are principles that are universal and must be respected in order to increase the chances to interest a woman in your person and to become your life partner. First: be courteous and always be a gentleman, be polite and respectful. Second: don't try to impress and simply be yourself - do not talk too much about your assets and belongings but elaborate on the inner person that you are as this is what a sincere woman is interested in, not your fortune or whatever you have. And of course, pay much attention to what she says and show a real interest in learning about her personality, about what she likes in a man, what she likes in a relationship, etc. If you feel she is a bit shy and don't ask too many questions about you, make her comfortable at doing so.
Whether you and your ex-wife or ex-spouse are in good terms or not, it is generally not a good idea to elaborate on this in the first meetings. Similarly, it is not advisable to ask her too many questions about his either. What matters is that you are both single and legally eligible to marry, meaning that if you were married, you should be divorced not only separated. About past relationships, don't worry as there will be plenty of time to talk about this in the future. The best is to focus on the present moment and discuss important matters in order to find out if you can be a good match.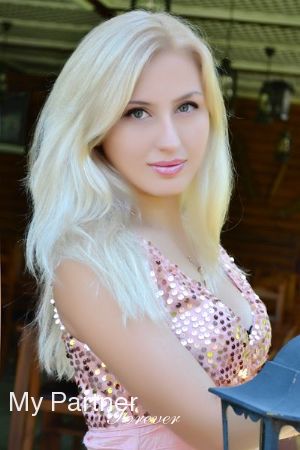 One aspect that must always remember is that you and the Russian woman or the Ukrainian woman you are meeting live in different countries, that have different cultures, traditions and of course, different ways of thinking. Not better or worse, simply different. Certain things that you will tell her may be interpreted in a different way from her than what you meant and vice-versa. And truly, it happens regularly. So, it is important to clear these misunderstandings as they come and to not let them pile up. This is even more true if you do not communicate fluently in the same language, which will most likely be the case.
With respect to exchange kisses and being intimate, it is certainly not a good idea to attempt kissing her or talk about it at a first meeting. A sincere gentle "it was nice meeting you, good evening" kiss on the cheek is more than enough for this purpose. Actually, a good hand shake is probably less risky at this stage and will do the job just as well. Russian women are typically traditional about this and although your intent is pure and it is simply a kiss without other thoughts, she could interpret it in a different way. So, don't risk ruining what you built and give this aspect time. After all, remember that you did not travel all the way to Russia or Ukraine to kiss a woman but to find your charming and loving life partner!